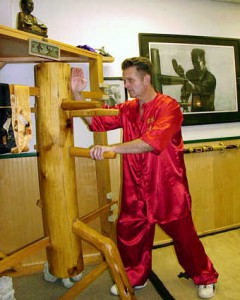 Sifu Randy has studied the art of Wing Chun Kung Fu since 1990. His first exposure to the art was under the teaching style of Sifu Andrew Fera (North American Wing Chun Association). His training intensified in1994 when he was accepted into training with Sifu Sonny Whitmore, William Cheung's first gold sash in the United States.
Sifu Randy is a 10th level gold sash instructor certified under Sifu Sonny Whitmore and is also his senior student. Both are certified Cheung style practitioners. Sifu Randy's skill and lineage in Wing Chun has been enhanced by his exposure to the teachings of Grandmasters William Cheung, Sifu Duncan Leung and Moy Yat.
Sifu Randy has also studied Budda Hand Wing Chun under master teacher Joseph Ng, after being accepted as a "closed door disciple" for several years. He also teaches Tai Chi Chuan at Eastern Arts. He has studied Yang style Tai Chi Chuan at Bejing School of Physical Education with one of their world champions. Randy teaches William CC Chen's 60-movement style from which he studied under Dr. Peter Herman, and he has also studied Chen style under teacher David Briggs. He continues to train diligently at making Wing Chun work most effectively.
Sifu Randy is a certified master's level therapist and has worked with various clients and agencies for the past 25 years. He is a graduate of Alvernia University, 1985 and Villanova University, 1988 as well as the Pennsylvania Gestalt Institute, 1991.